As we continue our long road to recovery from Hurricane Ian in Southwest Florida, it occurred to us that our own funds can only travel so far.
Watching the community come together and doing our part to help has been incredible, but we know that our local resources in both manpower and financial assistance are becoming exhausted. With that said, we're reaching out to our own network of professionals and clients located throughout the country to help.
How we can work together to help:
deckerdevs is doing a donation matching campaign to assist The Heights Foundation in offering much needed assistance to the residents of Harlem Heights, an underprivileged black community in South Fort Myers that was significantly impacted by the hurricane. Most of these residents don't have insurance, savings or any other means to recover their belongings. Most of their vehicles are inoperable and they're actively seeking donations of bikes so residents can go to work and continue to bring income into their homes.
For every dollar you give to this campaign we'll match it up to $3,000.00 total for the month of October. Simply forward your donation confirmation e-mail that you receive from the Heights Foundation for donations from October 10th - October 31st and we'll tally them up and make a matching contribution!
A word from the Heights Foundation
"There is much suffering from significant trauma," said Kathryn Kelly, CEO, president and founder of The Heights Foundation/The Heights Center. "I spoke with a family who thought they could ride out the storm in their home. They crawled out of a window as the waters rose. None of them could swim. They waded to the Kelly field complex and stood on a concrete slab for the remainder of the storm. They lost everything. Both mom and dad work on Fort Myers Beach in the service industry and those jobs are gone for the foreseeable future. There are many stories similar to this one. The residents of Harlem Heights are suffering and need our help."
The Foundation is monitoring the needs of the community and responding as best as they can. The initial need was food, water and basic supplies. They are now working on helping the families clear the debris from their homes and make them livable, and to connect residents with critical services. The Foundation is asking for cleaning supplies, linens, air mattresses with manual pumps, and bicycles in working condition for adults who have lost their vehicles.
This is an extended effort. It will take a long time for the community to rebuild and The Heights Foundation will be there for families every step of the way.
A big need is financial contributions, which gives the Foundation the opportunity to target the areas of most need and respond quickly. You can click here to make a donation online.
About The Heights Foundation
Harlem Heights was originally settled as a rural agricultural community. Approximately 780 children live in a mixture of single-family homes and multi-family apartments. Demographically, the population is approximately 70% Hispanic, 20% African-American, and 8% Caucasian. The poverty rate for children in Harlem Heights is more than twice the county average, with family income 40% below the county average. Families cannot easily access family support services in downtown Fort Myers and benefit greatly from programs within the neighborhood.
The Heights Foundation works to build self-sufficient families in the Harlem Heights neighborhood. The Foundation's mission is to support education and wellness, promote family and community development, and provide the benefits of enrichment and the arts. The Heights Center, supported by The Heights Foundation, is a place for Education, Opportunity, and Enrichment. Heights Early Learning serves more than 80 babies through 4 years old. The Heights Center serves 150 children in AfterSchool and SummerCamp. The Harlem Heights Community Charter School serves 180 children from kindergarten through fifth grade.
Many of the families in Harlem Heights were devastated by the hurricane. Parents have worked hard to have a home and care for their children, and now their lives have been flipped upside down. They have lost their homes, their cars, and their jobs. Many have no savings, no food, no transportation, and no support systems.
Image Credit: Kinfay Moroti / Hopeful Images
Our community that raised us and that we live and work within is so important, your support of it and us means the world during this.
11/17/22
UPDATE: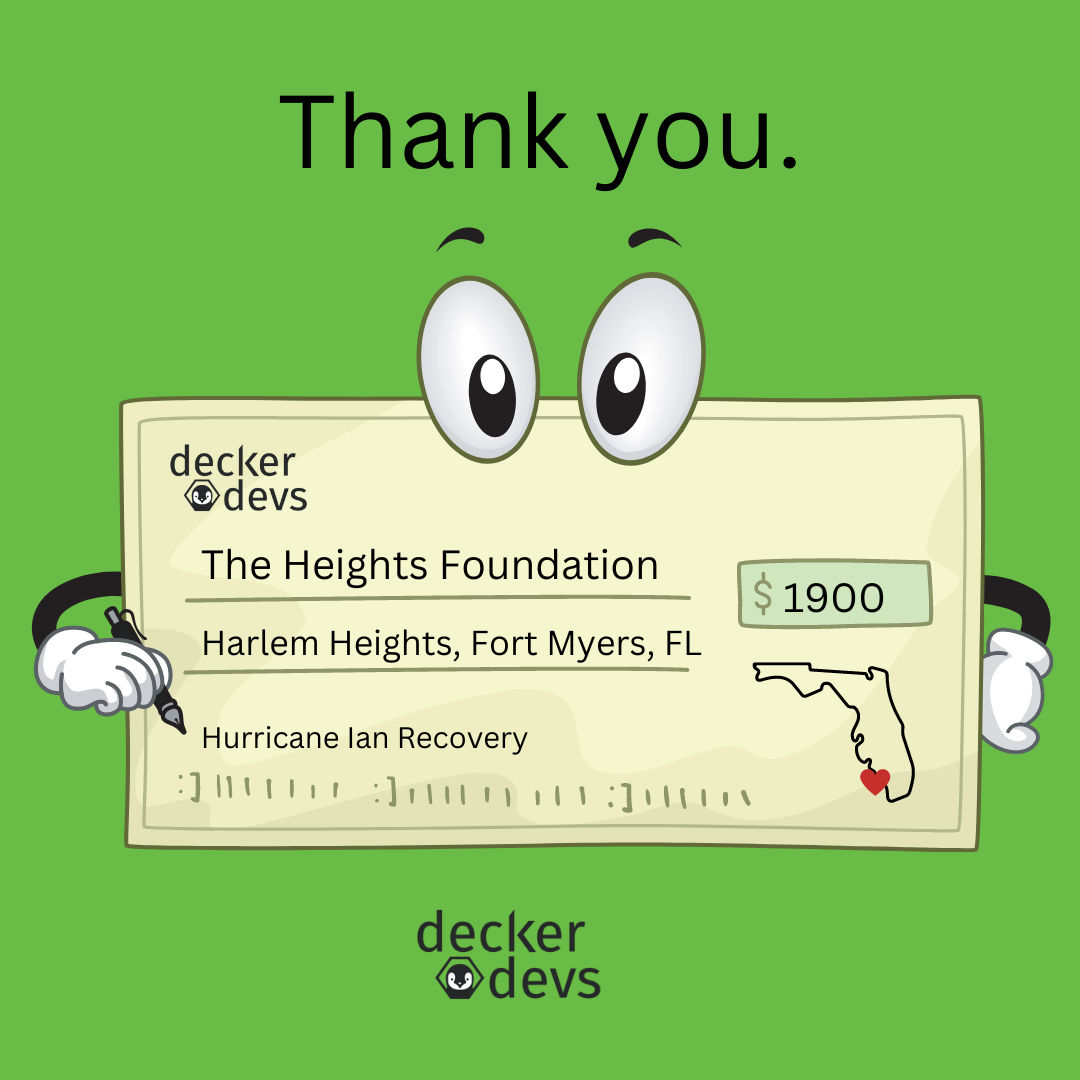 We raised a total of $1900 with our matching donation! These funds will go a long way to helping The Heights Foundation situate the residents of the Harlem Heights community in the coming months.
Special thanks to the individuals and clients that made donations to help Southwest Florida recover from Hurricane Ian.
Important instructions to ensure your donation is matched:
**IN ORDER FOR YOUR DONATION TO BE MATCHED, PLEASE FORWARD YOUR CONFIRMATION E-MAIL TO GIVEBACK@DECKERDEVS.COM***