There are so many things you should know when delving into web development for SMBs. We see so many clients that get caught up in how they want their website to look, but many seem to ignore how the interface they are envisioning will work best for the website visitors that they attract. Statistics surrounding user behavior and trends associated with this behavior are important for you to understand how to best engage users on your new website. When it comes to web development for SMBs, a mobile-first approach to web design is no longer an option, but a necessity.

Your new website should be fast to load, easy to navigate, with navigation and graphic elements that intentionally move the reader to the information they're seeking - and in a world that's operating at a breakneck speed, you've got to do it quickly.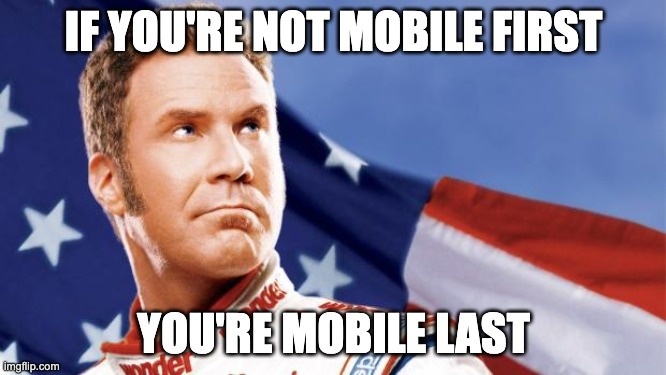 According to a Think with Google interview of Mobile Specialists from Google Central Europe, as user expectations increase, many companies lose revenue due to non-performing mobile sites:

"Mobile users have two main needs: They want simplicity and also want to use web pages as intuitively as they are used to on the desktop PC. The customer wants to perform a desired action on the page as quickly as possible, for example, to place an order."

We've gathered up a pretty solid list of user behavior statistics for you to peruse and get an idea of what your prospects might be looking for that supports mobile-first design and web applications.
A better user experience is essential:
42% of people will leave a website because of poor functionality (Top Design Firms 2021)


People want what they want when they want it. According to HubSpot, Google doesn't share its search volume data. However, it's estimated Google processes approximately 63,000 search queries every second, translating to 5.6 billion searches per day and approximately 2 trillion global searches per year. The average person conducts between three and four searches each day. The competition to be placed on the first page of those queries is tight. Imagine reaching the top only to realize that the user experience on your website is pushing half of your audience away?

We discuss it extensively in our blog about website quality assurance testing. Your developer should check and double check every page and every link on your website for functionality to make sure it goes to the right place, no forms are glitching, and everything is rendering properly on multiple different browsers and devices.

A working website is the most basic starting point for businesses, but you should go farther than that to create a website that actually converts by testing your website BEFORE you launch it.

You should run new website concepts through user testing or a platform like Attention Insight to get preliminary data on how users will interact with your design. Attention Insight is an artificial intelligence program that helps determine the prospective performance of a website's initial design using AI-generated attention analytics. Using AI, you can determine where a user's attention is going and if the intended CTAs and most important website elements are really the focus based on more than 30,000 images from eye tracking studies.

It might seem like a tedious extra step to have to analyze UX so deeply, but it's a great way to get insight on preliminary designs and go beyond aesthetics and into functionality.

It doesn't take much to push away website prospects that you've worked hard to get to your site in the first place, so make sure you do what you can to keep them there.


Mobile-first isn't an option, it's a requirement.
According to StatCounter, 60.43% of website traffic was from mobile phones in May 2022. That's up more than 4% from 2021.


For many years designers utilized a desktop-first approach when they designed websites. The assumption was that most people accessed websites with desktop computers (which was the case for a very long time). This approach worked fine when there wasn't such a large majority of traffic with expectations for accessing a fully functional version of a website from their mobile devices.

Now, with so many accessing websites remotely and on the go, mobile-first design is the expectation.

Our designers use a mobile-first approach to web design when creating websites for clients. While this is considered best practice, there are still a lot of prospects that come to us to help them get their website to the finish line with websites that already have a desktop design, but no mobile design. While we have accommodated these in the past, we much prefer to design the mobile experience first so that we can easily scale up having more space rather than doing the opposite and cramming all the elements from desktop design into a smaller space.

Here's what Google Expert Julius Schroder had to say:

Desktop web pages can not and should not just be recreated one to one for mobile devices. Because desktop works very differently – be it with forms, questionnaires, the number of fields or buttons. With mobile, all the relevant features have to be accommodated on a much smaller screen, while at the same time the website needs to be fast and the design user-friendly. It is called with all these factors: Mobile first! Because the first impression counts: A majority of the online buyers, 79%, does not return to the respective website after a bad user experience.
Native apps aren't always the best approach.

According to Top Design Firms, 32% of businesses already have a mobile app and 42% plan to build one in the future.

However, according to a Google/Ipsos study from 2021, 50% of smartphone users would rather use a mobile site when browsing or shopping than download a mobile app.

We can relate.
Who wants to crowd their home screen with one more app on their phone used every now and then?

Rather than cluttering up the screens of your users, consider a really heavy focus on mobile-first design. Create special navigation, eliminate unnecessary elements and design a functional, yet beautiful interface for your customers to get everything they need and nothing they don't. This will not only keep people on your website for longer, but very likely increase conversions.

Web Applications are a great way to deliver an app experience through a mobile browser. We've developed many different web apps for our customers, including calculators, online shops, message boards, learning centers and more. Maintenance and development time for web apps are much shorter than native apps.

When it comes to creating the experience your clients and customers are looking for, a fast loading website with mobile-first design are probably the two most important aspects of your website redesign. Be strategic about how you approach your online presence and plan web applications in tandem with your website, even if you have to do your development in phases. A phased approach will allow you to extend your budget further and ensure you're able to take the appropriate time to do UX testing, user surveys and collect other data to make sure that you're delivering the type of experience that your customers need on their mobile devices when interacting with your brand.

What's the worst mobile website experience you've encountered? Share it in the comments.