Breakups are the pits, aren't they? But outgrowing something (or someone) you love happens all the time. Needs change, people grow apart and what served someone well for so long just doesn't get the job done any longer. This is how we've been feeling about WordPress for quite some time. I've been teetering on the edge of dropping WordPress as a platform for over a year, but hadn't quite pulled the plug. It's no secret that many small businesses outgrow WordPress quickly, but previously I wanted to have an option for small businesses that might not have had the budget to move over to HubSpot CMS. But now? With CMS Starter being such a compelling option for small businesses? It's time, once and for all, it's time for us to break up with WordPress.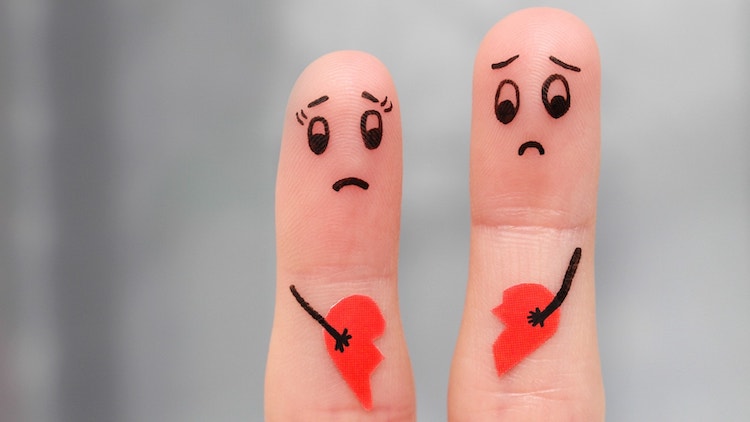 As finally-full-time HubSpot CMS Developers, this break up has been a long time coming.
Here's our Dear John letter to WordPress as a platform:

—------------------------------

Dear WordPress:

It was a love story like no other. For decades, you delivered flexible development that I couldn't get anywhere else. You made dreams come true - and not just mine. You were the foundation by which I judged all other platforms and by and large all of them paled in comparison to your capabilities, for a website platform. They were endless, and I was in awe at my ability to deliver for my small business clients. In the style of Bette Middler, you were the wind beneath my wings in so many ways. We were the power couple, the most dynamic duo. You and I did some incredible things together.
But, maybe I was jaded, in some ways. Maybe I didn't know what love was supposed to look like, because while we reached so many destinations together, the bumps along the way and after were increasingly noticeable. The shiny newness of everything I delivered with you came to a crashing halt as I encountered more and more prospects that weren't maintaining you properly, developers whose "best" practices and coding was terrible, leaving clients open to attacks on their website and business. The increased downtime, the decreased page speed as a result of bloated websites patched up in far too many plugins.

So much of our small business clients' valuable technology budget is being dumped into repairs, maintenance and the like, where we know that if we just move them over to HubSpot CMS, they don't have to constantly pay to repair broken plugins, speed up incredibly slow websites and piece together things in ways that are making website growth and flexibility entirely unattainable. The monthly payment they're making doesn't have to go to maintaining the status quo or fixing broken code. Instead, it powers up a far more powerful infrastructure with boosted security and gives them the opportunity to look at the road ahead.

In a world where the freedom exists to do whatever you want, maybe we need more guardrails on our website platform and the people in charge of it. Wordpress is too open and anyone can add to a website. Lacking logic for problem solving and poor coding skills just add website bloat. Sometimes, the people in charge of the website that you've entrusted with the livelihood of your internet presence simply don't know enough about web development to know what's right.

Or maybe… they haven't yet discovered that there's something better out there.

Our path is coming to a close not just because our relationship is over, but because I've found something new. Something that delivers in all the same ways… and more. I didn't realize what I was missing, where a love like this could take me, until I let go of all my preconceptions of what I thought small business website development had to look like.

For a long time the custom development I wanted to do in HubSpot wasn't viable, but the platform has come so far in the last few years.. I've learned through the years that love is an investment. That you can grow together. That there isn't any such thing as an "expensive" or "budget" website. That you eventually pay later in time, resources and missed opportunities what you're unwilling to pay for in the initial stages of development.

I mean, the statistics don't lie…

According to BetterStudio:

13,000 WordPress websites are hacked every day
8% of WordPress sites are hacked due to weak or stolen passwords
Outdated Wordpress websites are blamed for 61% of attacks
Cleaning up a hacked WordPress website can cost upwards of $5,000
More than 99% of all security vulnerabilities in the WordPress ecosystem were found in themes and plugins in 2021.

So many of our clients opt for Wordpress thinking they can have a bare bones custom site and add plugins to add the functionality they need later on… but every new plugin opens up new vulnerabilities and increased urgency for mitigating the risks.

And yet? Plugins and themes sit outdated either because the client isn't applying them or because they're abandoned by the developer themselves and not issuing updates - which is an entirely different problem that gets overlooked commonly.

So? It's time to let go. I've already broken down the regrets you have after paying for a WordPress website and I think it's finally time to end an era. You've been good to us, I've loved you (and sometimes hated you) for so long, and I'll never forget all the flexibility (and many of the headaches that came with it) you brought to the table.

Bon voyage, old friend. It's been a ride. I appreciate the good times and I'll never forget what we've done and helped businesses achieve inside WordPress. But I'm a commitment kinda guy and deckerdevs has made its final decision: we're all-in HubSpot CMS.

Sincerely,

Nicholas Decker & the deckerdevs dev team

—----------------

Simply put: there's a better way to website.

And HubSpot CMS development? It doesn't have to cost you an arm and a leg. Will it be cheap? No. Worth it? Hell yes.

Believe me when I say, this thing we have with HubSpot? It's the real deal and not any kinda fling. We've been in a relationship with HubSpot for over a decade. We're just going all-in now.